Home Sweet Home, 2018
Russian Pee Room
BIG SCHOOL, 2016
BIG SCHOOL (inked)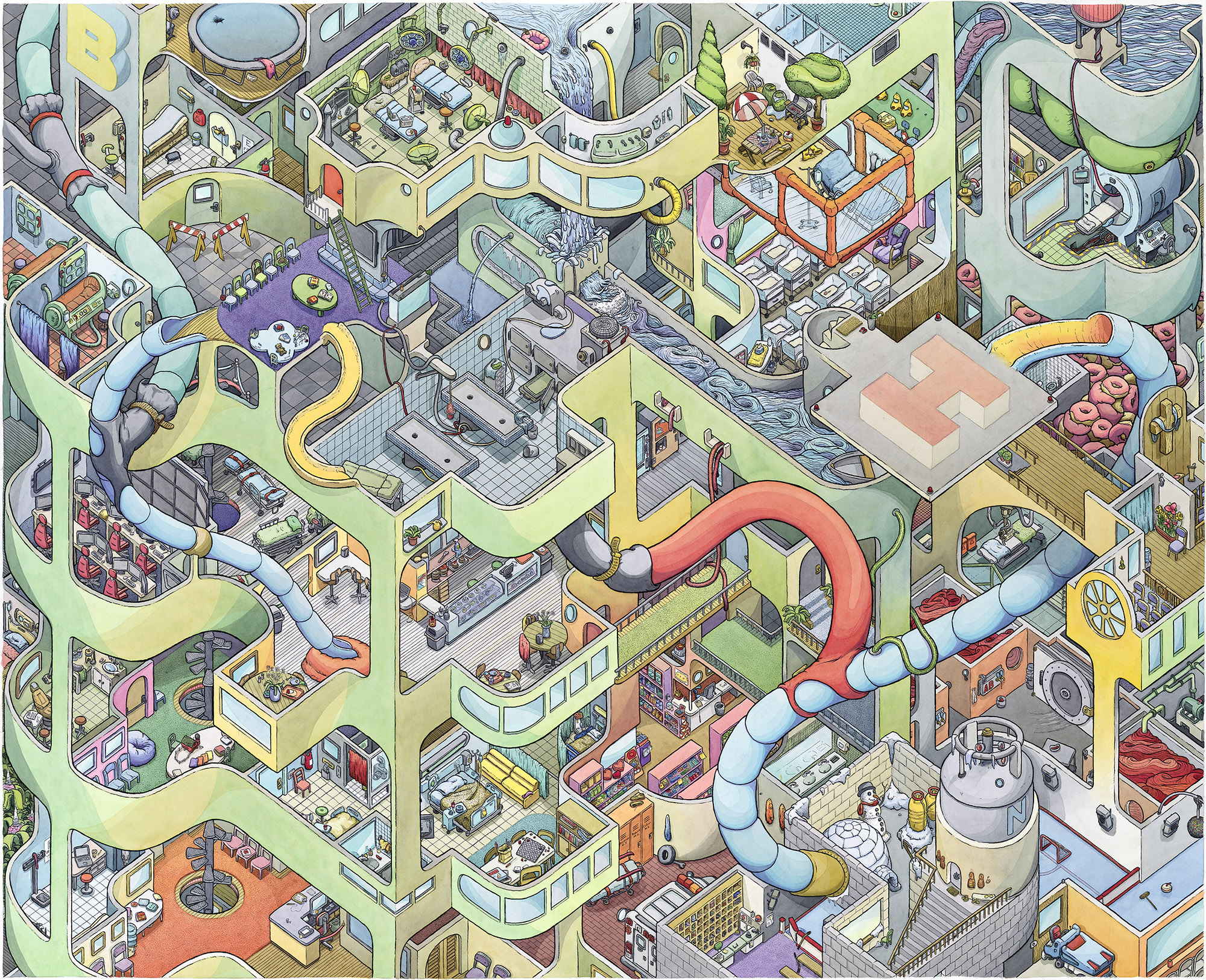 BIG HOSPITAL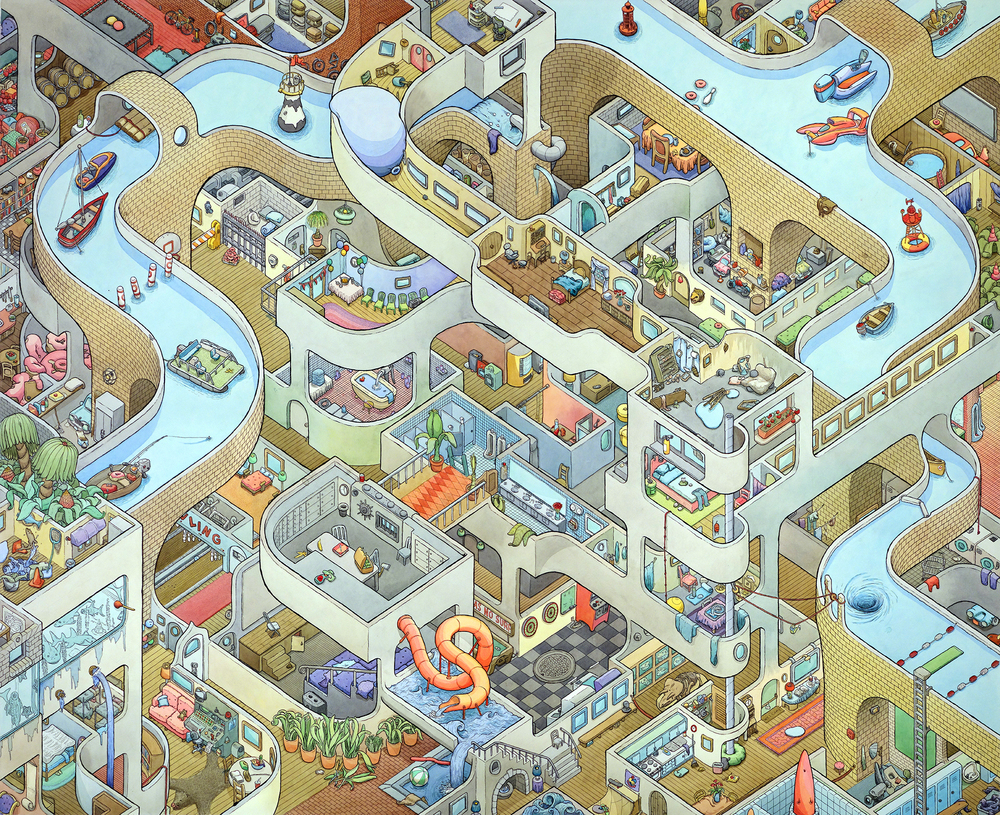 BIG CANAL
Bevers' Day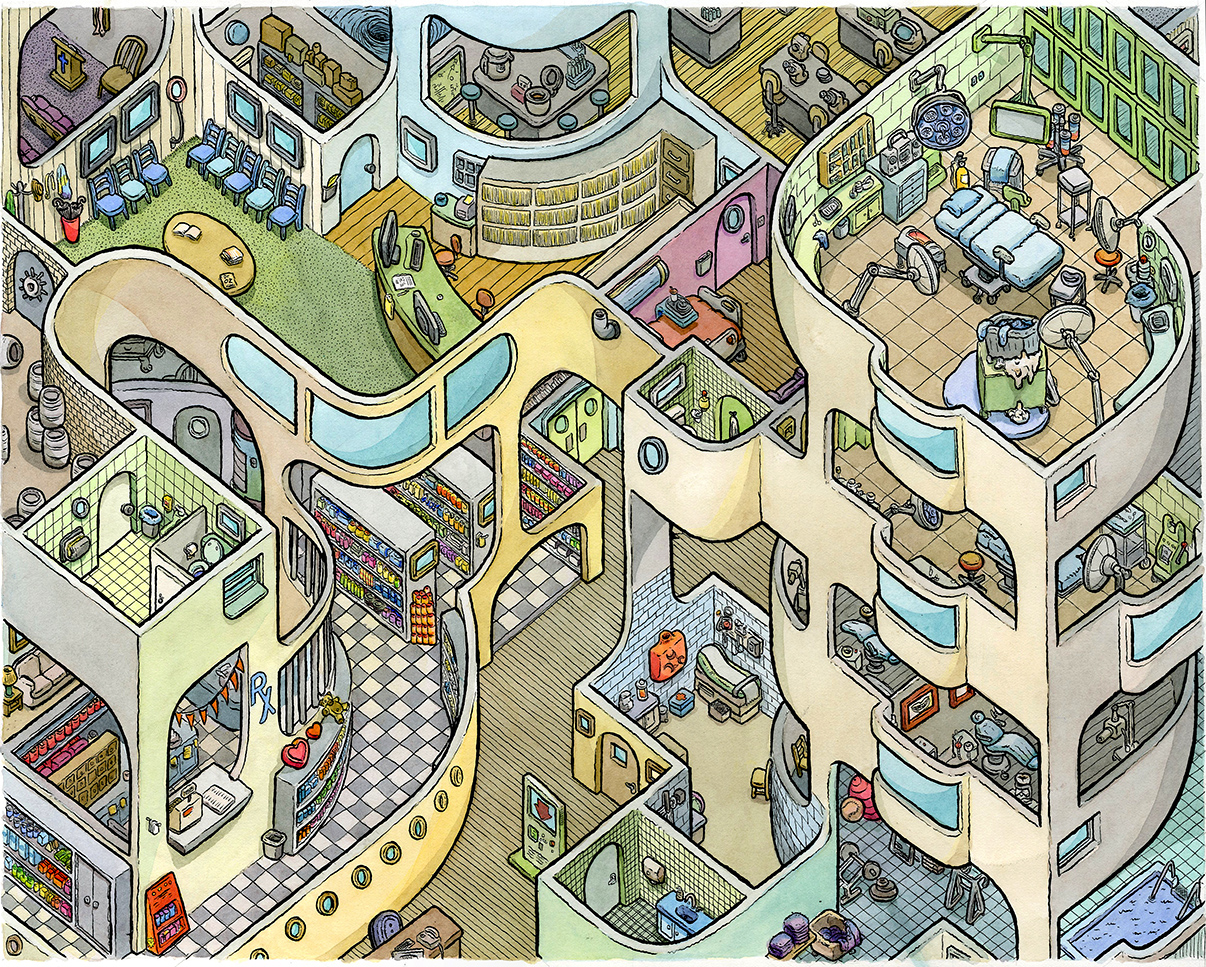 Small Hospital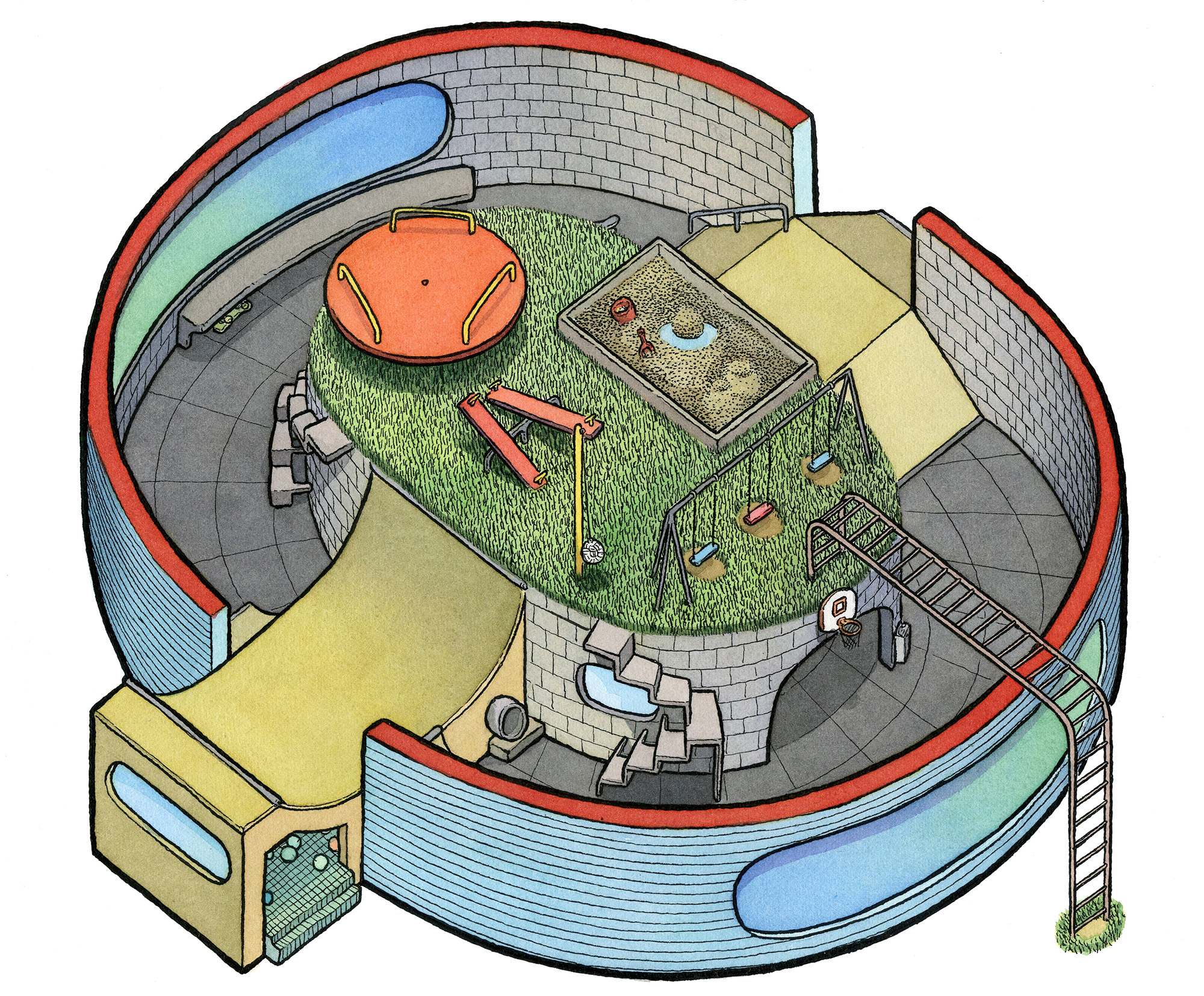 1: Driver Ed Simulator Trailer
2: Lending Library
3: Mean Math Tutor Dwelling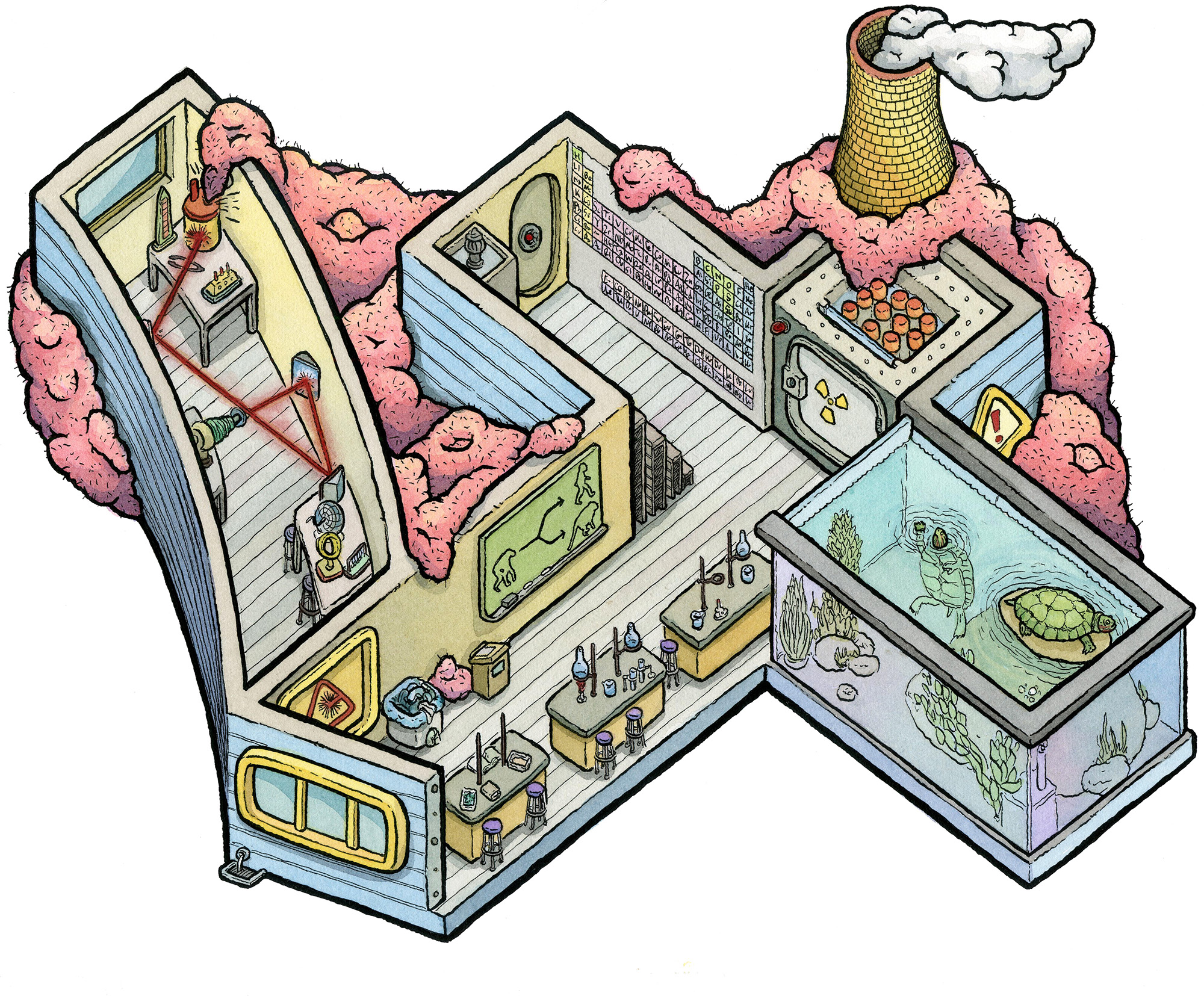 4. Science Classroom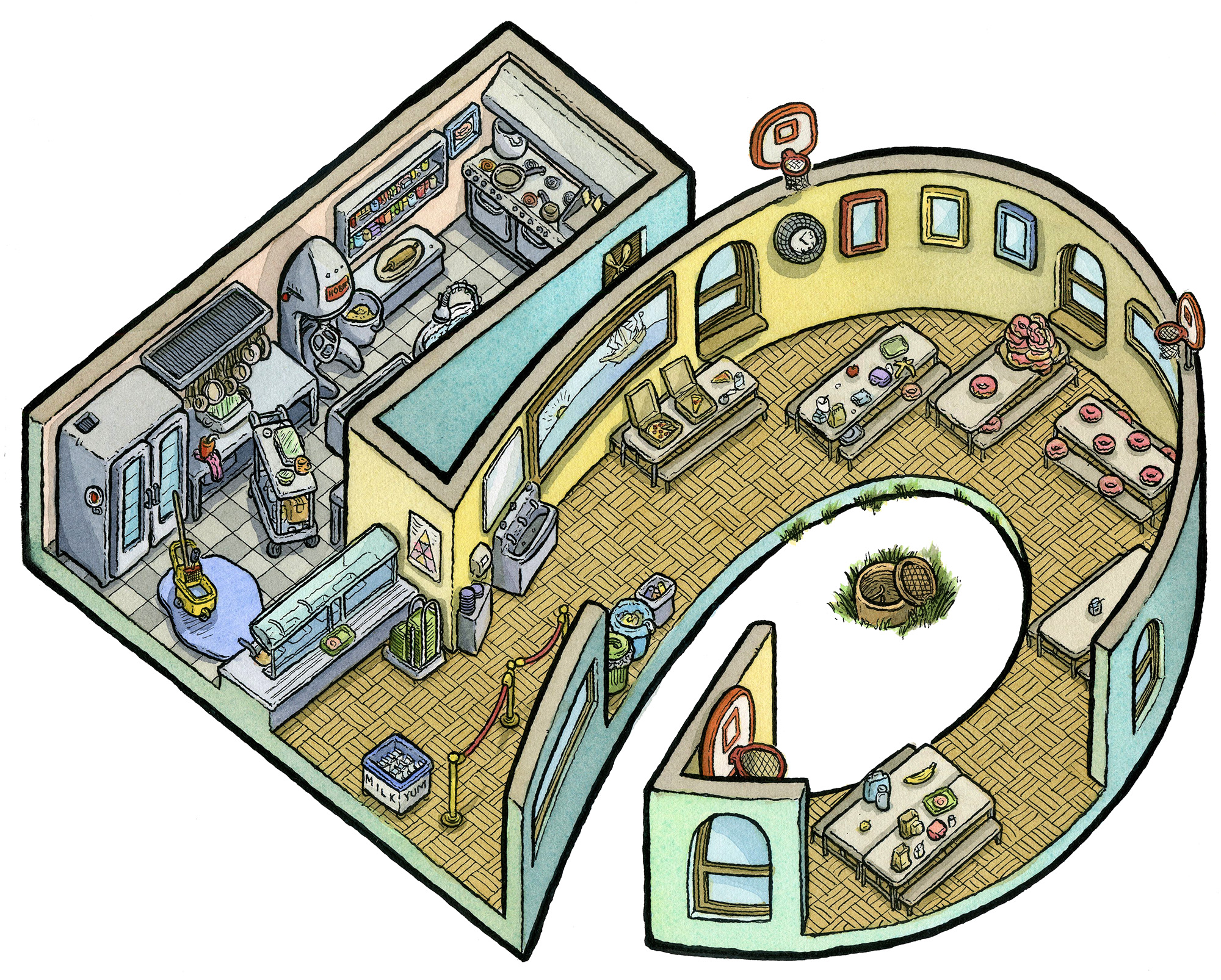 5: Cafeteria
6: Afterschool Sports
7: Typing Class
8: Art room and glassblowing workshop
Canals and Smokestacks, pen & ink and watercolor 2004-2016
9: Principal's Office/Secret Spa
Penrose Room, 2016, 8" x 10" pen & ink and watercolor
11" x 12.5" pen & ink and watercolor, 2015
11" x 12.5" pen & ink and watercolor, 2015
11" x 12.5" pen & ink and watercolor drawing, 2015
Shrink's Office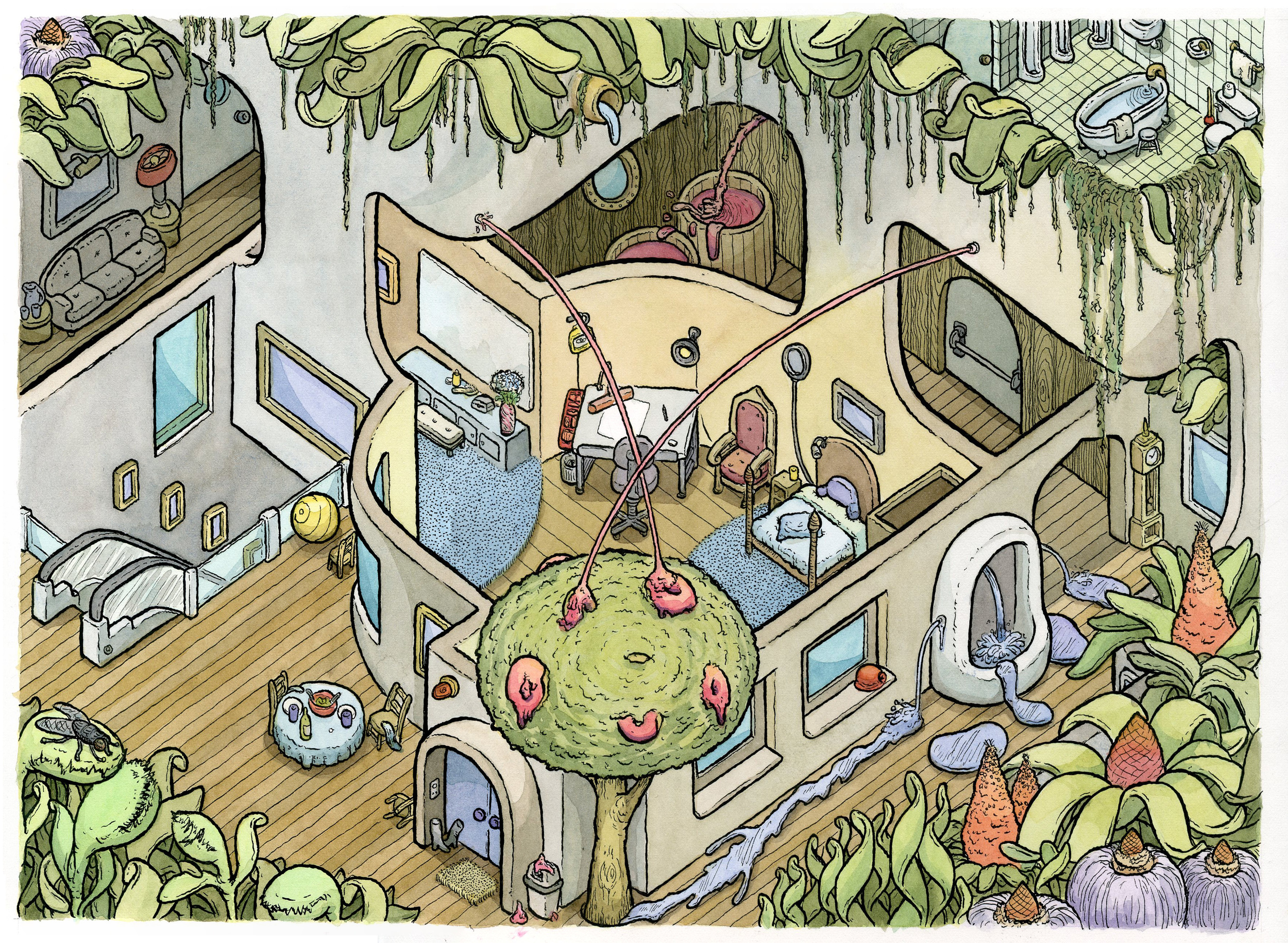 Donuts in Tree
Voyeur Bathroom
John's Hopkins Hospital commmission
Penrose Ball with Frosting
Escher Spooge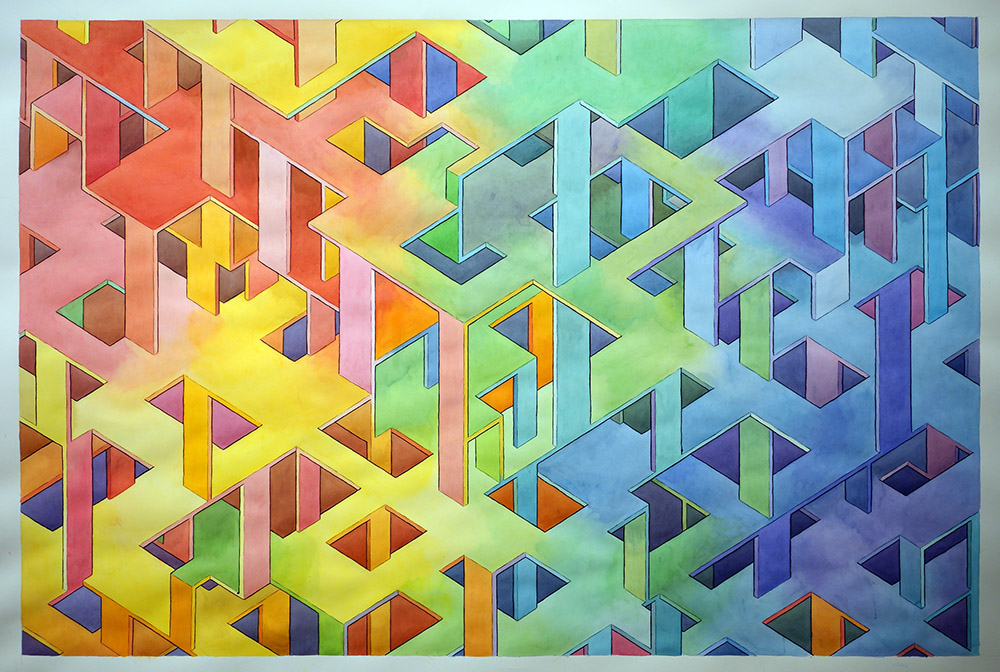 SKITTLES
Shrink's Office (progress)
John's Hopkins Hospital commission - installed
Alphabet City
55th Floor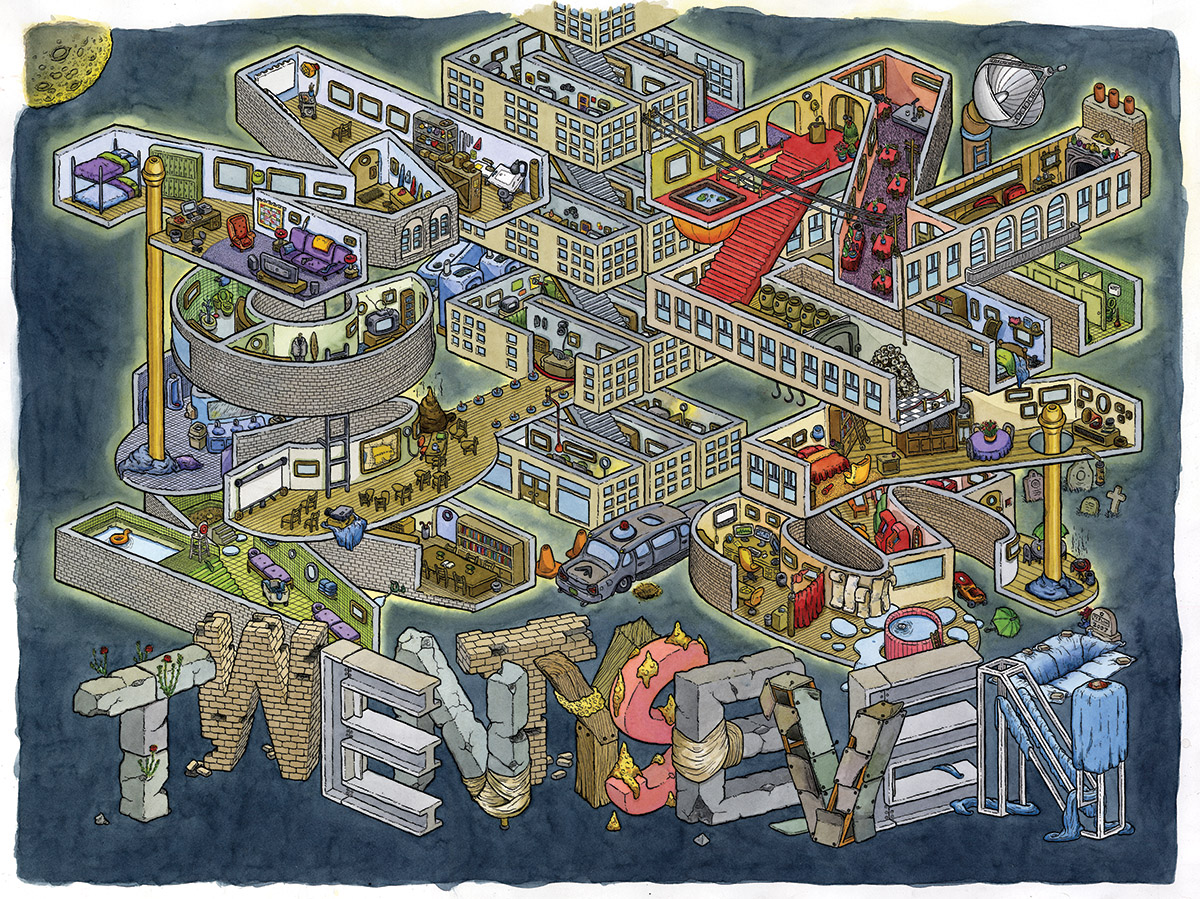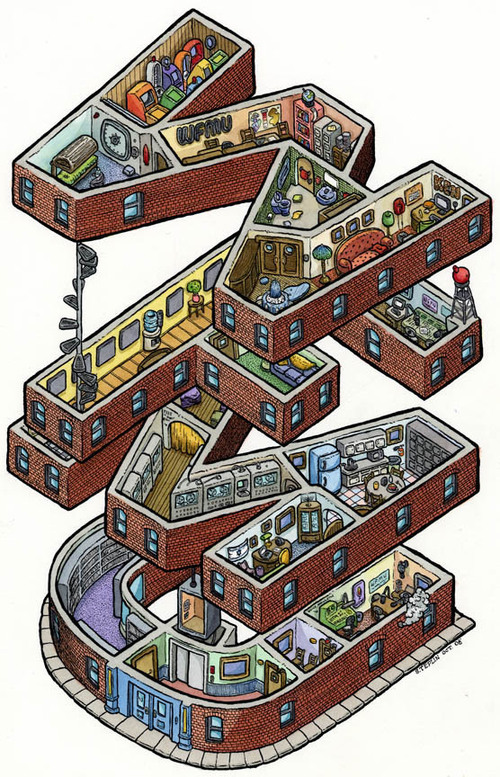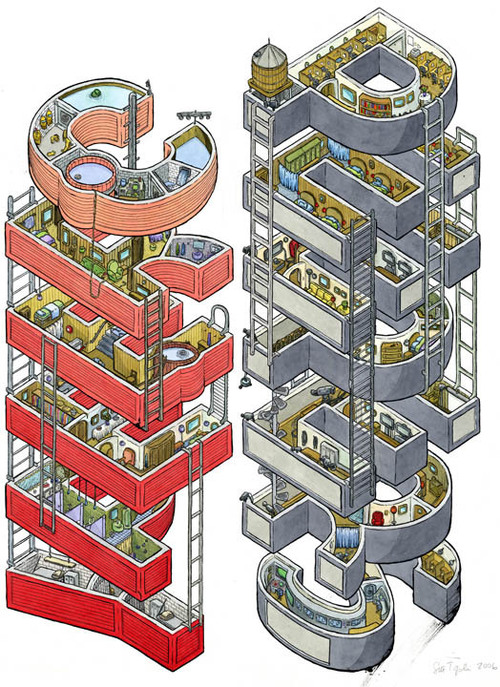 Home Sweet Home, 2018
Pen & ink and watercolor on paper. 30" x 50"
Russian Pee Room
2018, pen & ink, 9" x 11"
BIG SCHOOL, 2016
52" x 70" pen & ink and watercolor on paper. Available as a print.
BIG SCHOOL (inked)
BIG SCHOOL: 6 feet long pen & ink and watercolor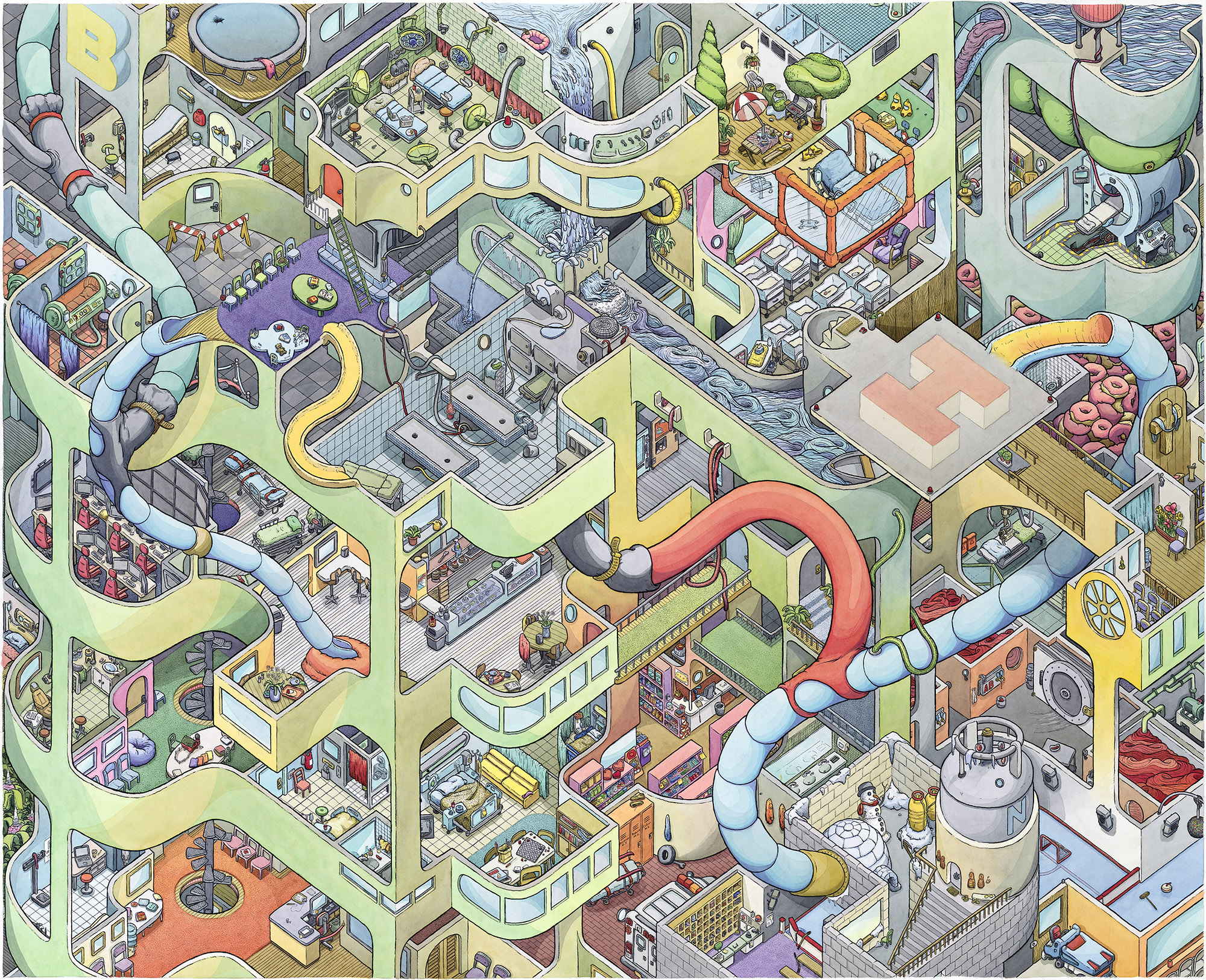 BIG HOSPITAL
62" x 52" pen & ink and watercolor (2015). Available as a print.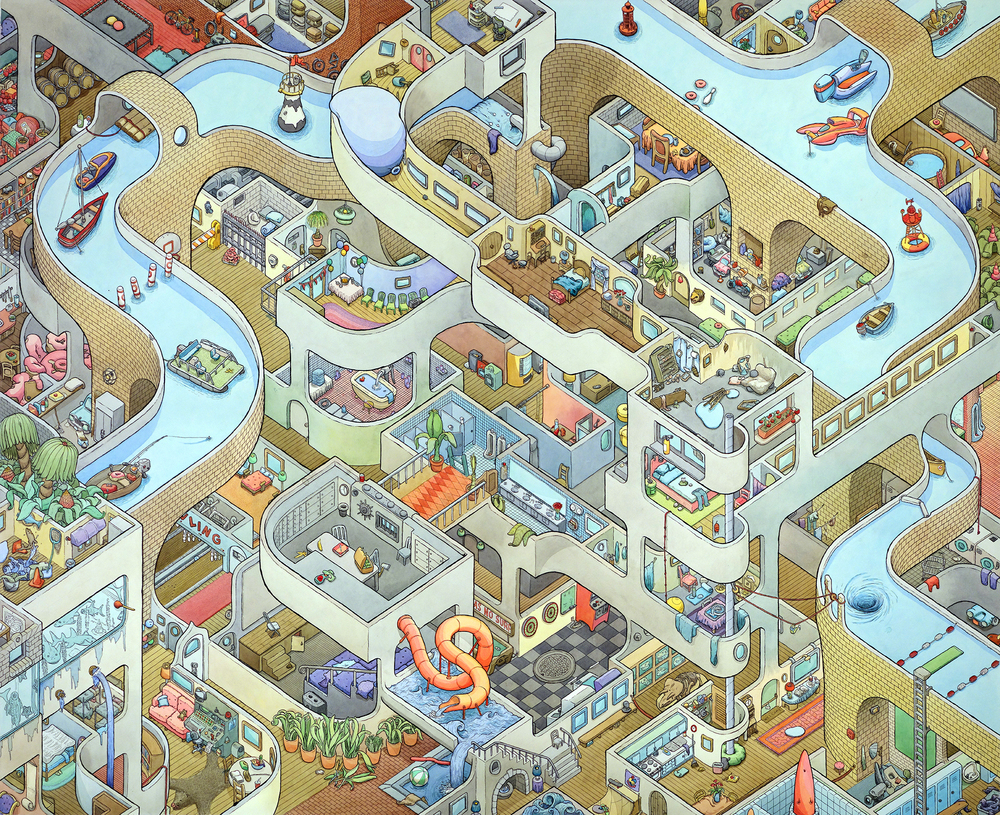 BIG CANAL
52" x 62" pen & ink and watercolor, 2014. Available as a print.
Bevers' Day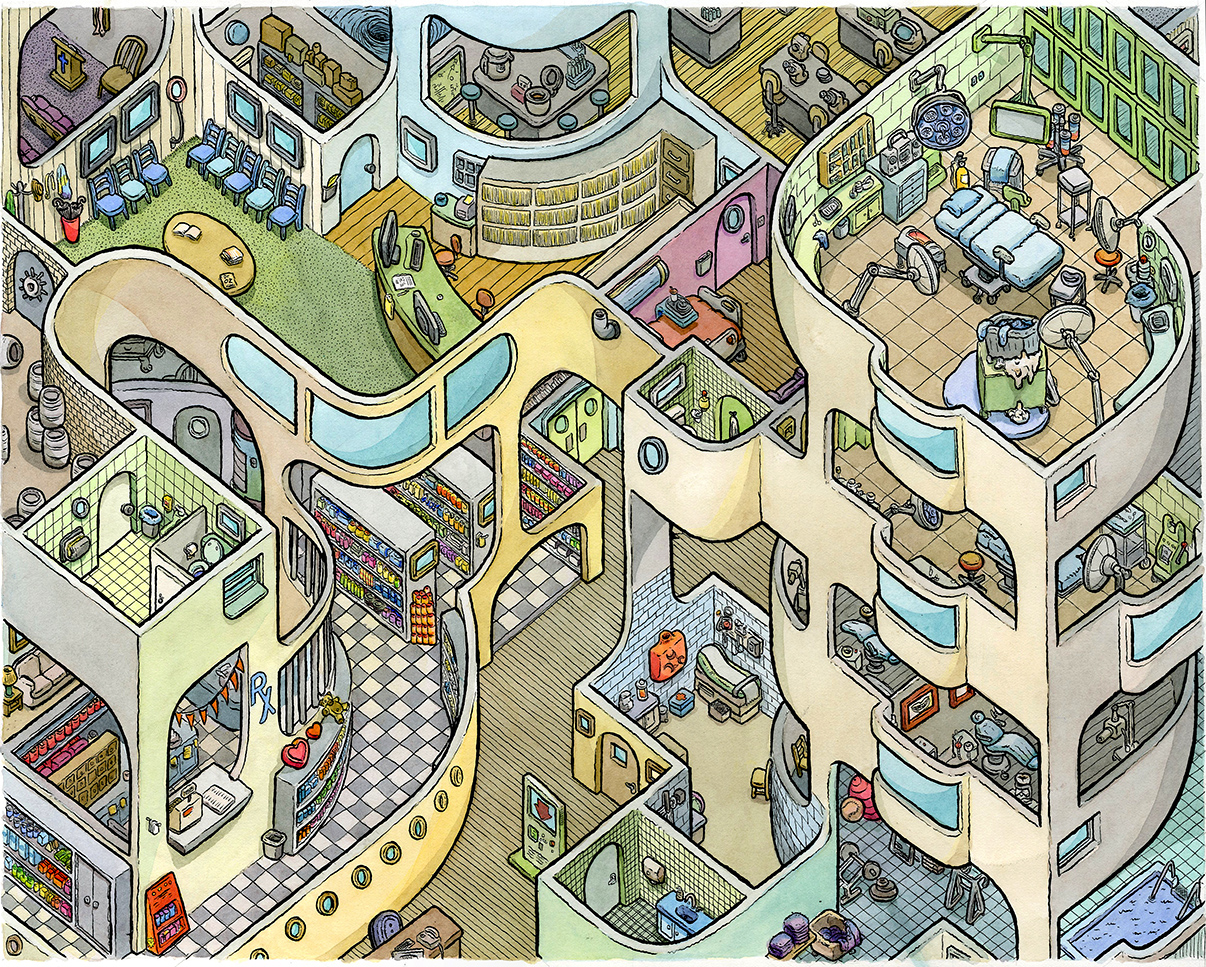 Small Hospital
13" x 16" pen & ink and watercolor, 2015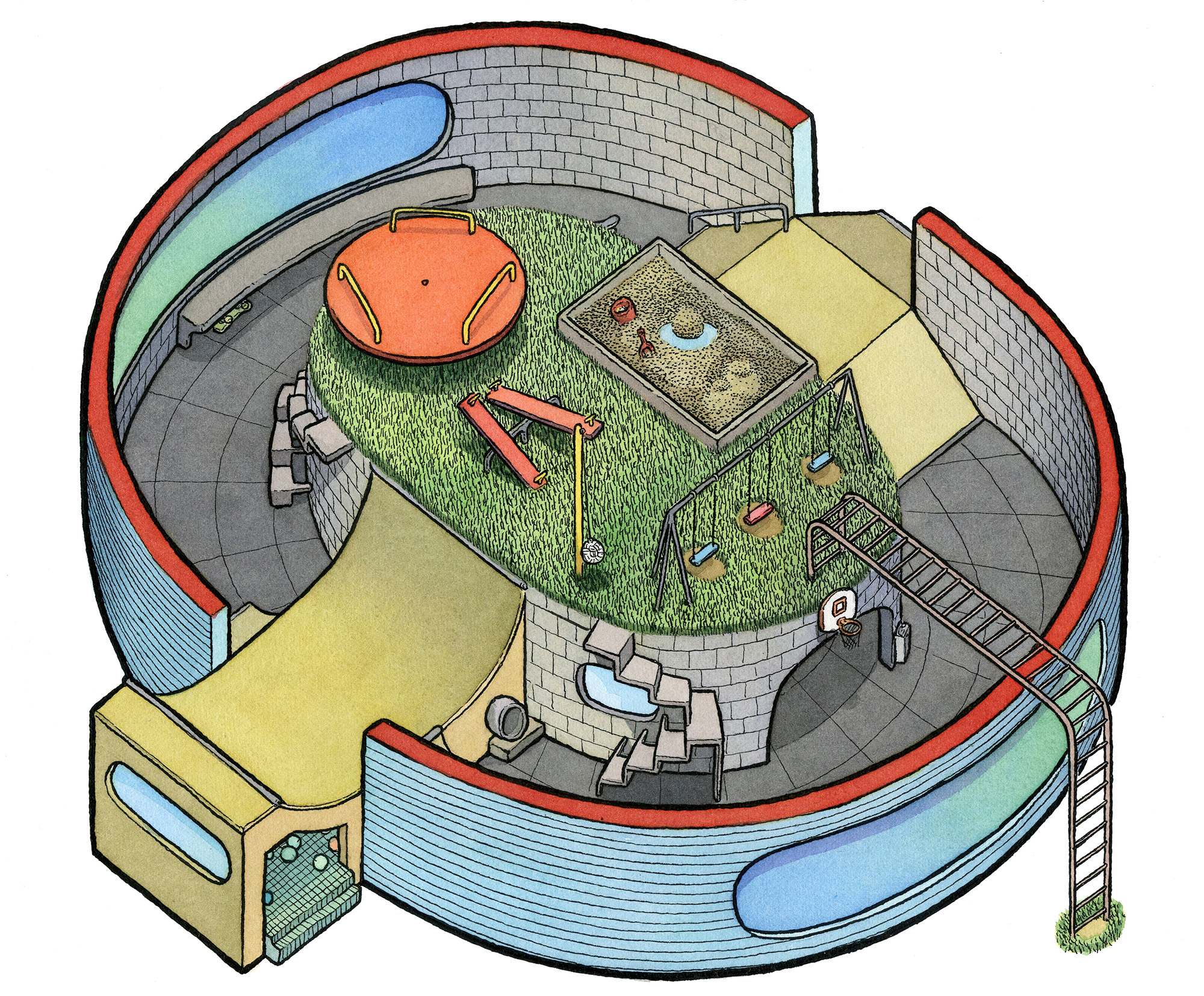 1: Driver Ed Simulator Trailer
Classroom #1: Driver's ed simulator. When I was in high school in Mequon, Wisconsin in 1988 a portion of the drivers' ed class required a certain number of hours in the mechanical "vehicle simulator" (we called it the "stimulator" — haha — 15 year-olds) before we could begin our actual behind-the-wheel lessons in a real car. It was as ridiculous as it sounds. There was a retrofitted trailer next to my high school that contained a line of fake drivers seats/dash boards with foot pedals (maybe 10 in a row?) and we all faced a single movie screen on one end of the trailer. The instructor would run a 16 mm film and we were led to believe that as we watched the (once color, but looks reddish) footage from the POV of someone driving a 70's car down a suburban road, the actions on our individual simulator units were being scored and would affect our final grade of the class. No one ever scored better than a D. Being the out of control kid that I was, I got to the simulator early one day and noticed that a large fiberglass back panel to one of driving the units was loose. So I pried it off and saw a bunch of those rainbow flat ribbon cables that early computers used. I stealthily unplugged a few cables and re-plugged them into the wrong slots (why they all fit together is a mystery) and then replaced the panel. That broke the entire system and for the duration of my 4 week class (and several classes after mine) nobody had to (got to?) use the simulator any more. I was told that the school had to call in a "Simulator Doctor" in from Ohio to fix the thing.
2: Lending Library
I have fond, early memories of always trying to get 'dibs' on the how-to-draw-dinosaurs book in the library in my elementary school. I would grab the book and just sit on the floor between the stacks and trace the ovals (with my finger on the page) that made up each dinosaur with my finger. Included were books those great line-drawing books by David Macaulay (like Cathedral, Castle and City). I didn't dare take art seriously until a couple years into college. I had such terrible grades in high school that I stayed away from art classes because I thought people would think I was dumb and just taking art classes to get a good grade.
3: Mean Math Tutor Dwelling
Mr. Kerr, my 6th grade math teacher was the meanest, yelliest teacher I've ever had. I did a couple portraits-from-memory of him with his grey, receding crew cut, super wrinkly (discolored from unfiltered cigarette smoking) skin and his ground-down bottom teeth where the soft middle was visible. It was a private school where we had to wear suits and ties. One time he caught me with my top button unbuttoned and my tie slightly loosened. He threw me up again a bank of lockers and screamed that I wasn't allowed to dine in the lunchroom for a week - I'd have to sit in the hallway and bring a bag lunch (the school provided a fancy hot lunch on porcelain dishes for all the students every day). He was of course the afters school football coach and during the one week that I tried out for the team (I still don't know the rules of football) a friend of mine literally broke his arm (the humerus no less!) and Mr. Kerr made him stay and keep practicing until 5 pm. Since he was so cartoonishly gruff and mean we often amused ourselves by trying to imagine Mr. Kerr out in the real world interacting with real people that he didn't have power over - like when he would have to buy a pack of cigarettes. Did he yell and scream at the cashier? We honestly couldn't imagine how that would go.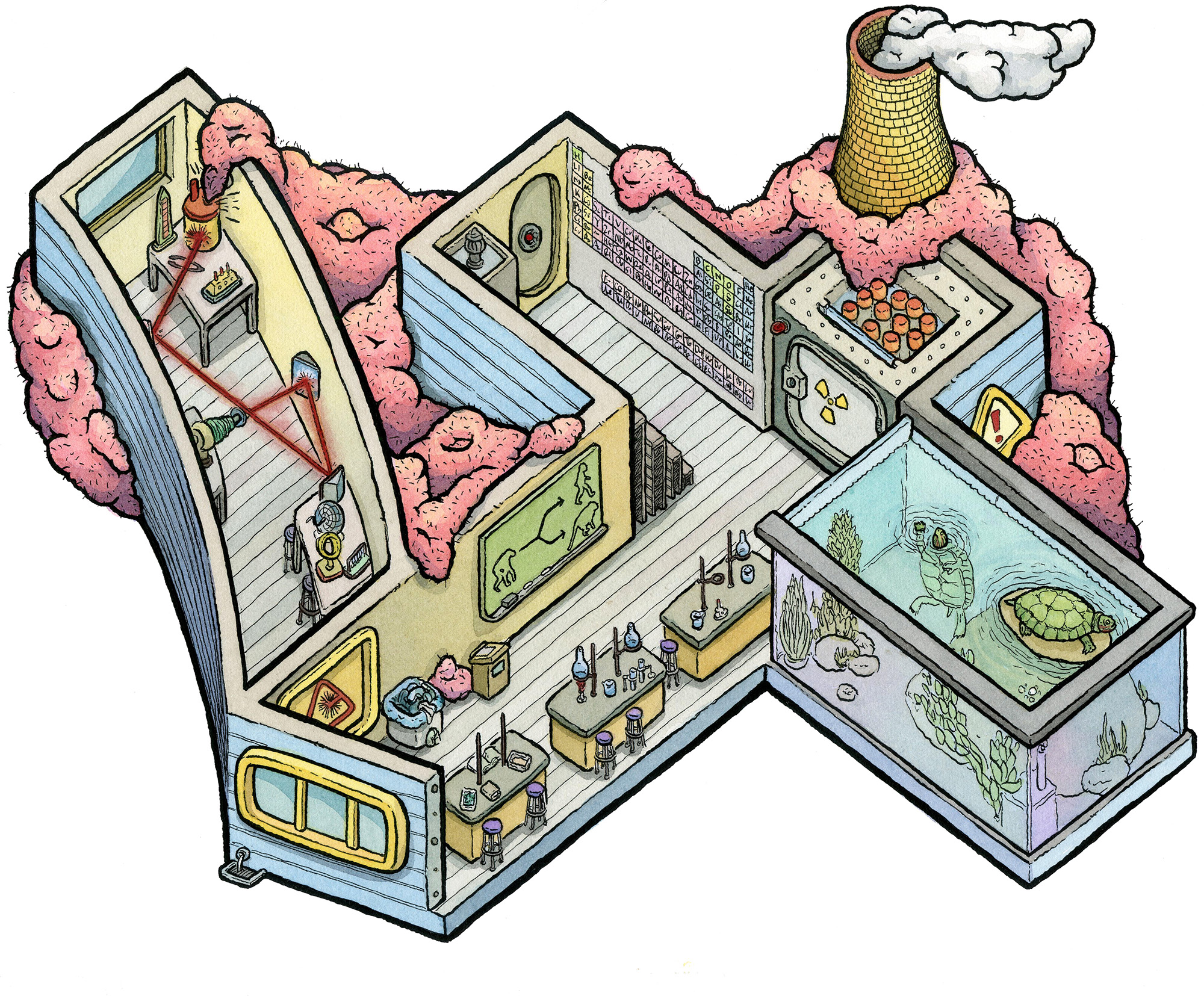 4. Science Classroom
Something seems to have gone wrong.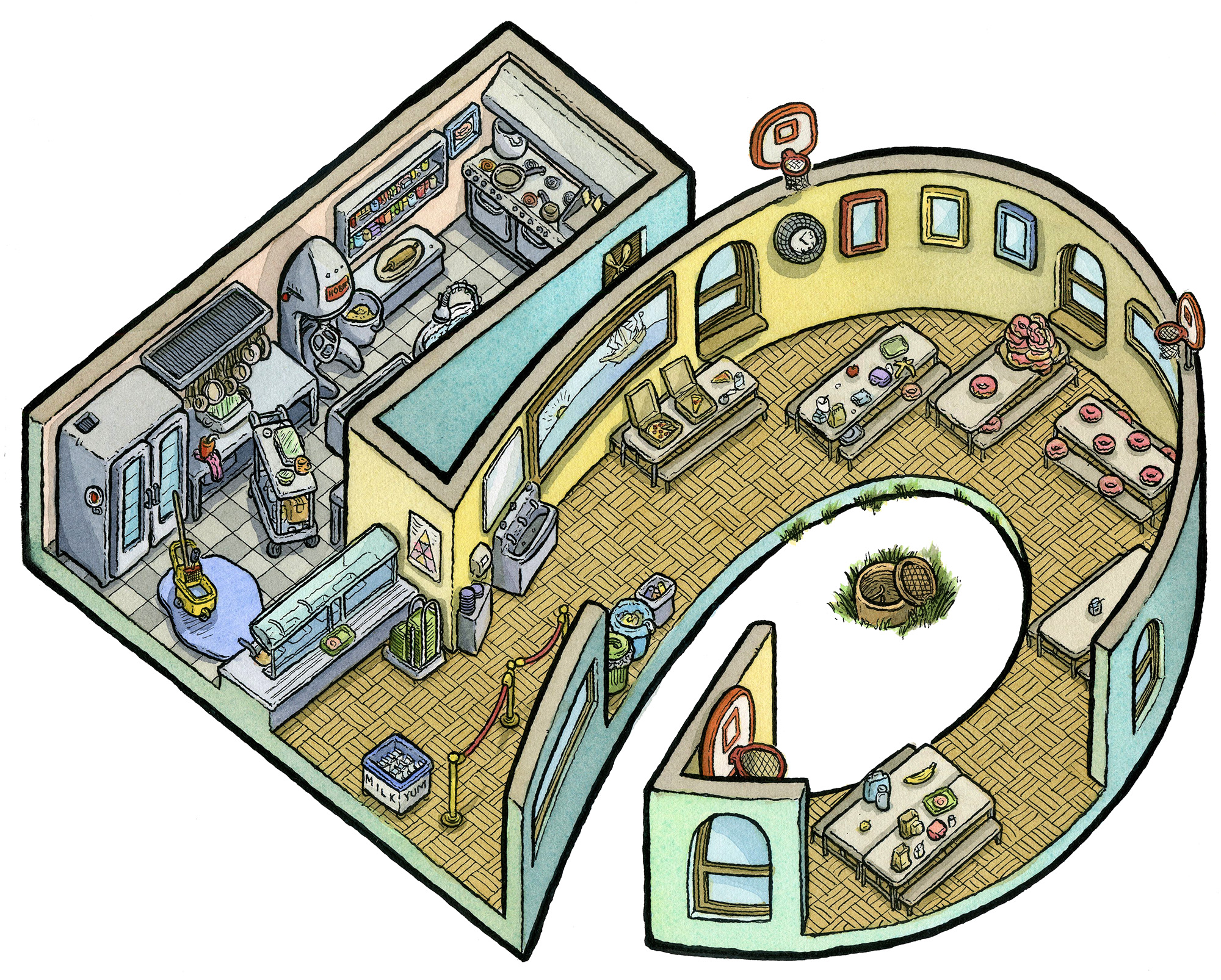 5: Cafeteria
Cafeteria: my high school was a sprawling one-story building roughly the shape of a figure eight. At lunch period we were allowed to go outside into a courtyard (where students couldn't escape). There were these big floor-to-ceiling windows between the courtyard and a hallway where the vice principal would wander around talking to students and on sunny days we would stand in the courtyard and make our shadows do virtual mean things to the vice principal's body (mostly shadow-squeezing his butt). Since it was the 1980's, if students had a permission slip signed by their parents they could enter a tiny jail-like cage attached to the outside of the school on the other side of the courtyard where they were allowed smoke cigarettes. Crazy to imagine that now, amiright?!
6: Afterschool Sports
In high school I ran cross country and track (hurdles) all four years. I was pretty bad at both but I loved my teammates and since all the other hurdlers graduated after my freshman year, I undeservedly defaulted to the varsity team. Each year our cross country team went to a meet far enough way that we stayed overnight at a shitty motel. Naturally I brought fireworks and got a friend to shoot a bottle rocket into our room's toilet (Hi, Ira). It blew the back of the bowl off and flooded our room, but we were too scared to tell our coach so we slept in a very wet room. The next morning my friend claimed to have slipped getting out of the shower and broke the toilet bowl with his hip as he fell to the floor. The coach bought it, kind of. The terrible part was that I left my brand new running shoes in the room and was too ashamed to call the motel and ask them to mail them back to me.
7: Typing Class
When I was in 7th grade in Milwaukee we had a typing class (it was 1985, so technology wasn't so much a "thing" yet) where we used these super rudimentary PC's. Our weird old lady teacher's name was literally "Ms. Hacker," though I don't think "hacker" meant then what it does now (back then there were "phone phreaks"). I had a broken arm and was in a full arm cast during the semester so I kind of fucked around since I couldn't sit and type properly. This drove Ms. Hacker absolutely batshit-crazy. One day (it might have been the second day) I crumpled up some paper to discard into the waste-paper bin (no recycling in 1985) and I received my first detention - for "wasting space in the bin" (crumpled paper takes up more room that nearly placed, organized sheets of paper).
8: Art room and glassblowing workshop
When I was an undergrad at the University of Wisconsin, Madison I had no idea how special it was that they offered a glass blowing class. I had a buddy who took courses in the foundry there (he's a professional yo-yo'er now) and I visited him there a few times. As a college senior I worked as a nude model for beginning drawing classes. I had a friend who was a student in one class (I moved to NYC with him after we graduated) that I was posing for, and made sure I did at least one gab-my-ankles pose in his general direction each day. I also modeled as The Nude Dude at a local community college where I had the letters, "NUDE DUDE" sewn on the back of my modeling robe that I dramatically shed when I was ready to pose.
Canals and Smokestacks, pen & ink and watercolor 2004-2016
click for a high res version
9: Principal's Office/Secret Spa
Study of a principal's office with super secret spa (sauna & hot tub) behind clothing rack inside walk-in closet. I added those blue chairs in front of the principal's desk because it's a scene I'll always remember. Half-way through 8th grade, I was in my second year at a ritzy private school. It was my Parent's desperate attempt to get me to work up to my potential instead of getting C's and D's. I didn't really improve my grades there (in today's system I would have been given AHDH meds) and I had what I would consider to be "minor behavioral issues" - class-clown stuff. One last suspension and I'd be expelled. I was caught cheating on a pop quiz in German class ('portrait from memory' of that German teacher: CHECK) and that was it. They called my parents in to the HEAD MASTER'S office that day and they were forced to sit in these ridiculous giant, high-backed blue chairs with American flag star patterns all over the fabric while I stood there next to them, and Dr. Wallner (he has a history doctorate, insisted everyone called him DOCTOR) told them I was "dis-invited" from attending the school (a week into the second semester). The school will keep the money. I've drawn several portraits of Dr. Wallner over the years.
Penrose Room, 2016, 8" x 10" pen & ink and watercolor
click for much larger version
11" x 12.5" pen & ink and watercolor, 2015
A classroom 20 years in the future where some idiot thought it was a good idea to hold every class on the playground and lunch is served on the swings with milk straws winding up the chains. Click for larger version.
11" x 12.5" pen & ink and watercolor, 2015
A classroom 40 years in the future where some moron thought it was a good idea to keep each student in the same room 24/7 and every metric is quantified so that "each individual's need is met" - Gattaca-style. Click for larger version.
11" x 12.5" pen & ink and watercolor drawing, 2015
11" x 12.5" pen & ink and watercolor drawing of a classroom 60 years in the future where we are all just trying to survive the zombie apocalypse (includes collapsed space elevator). Click for larger version.
Shrink's Office
12" x 15" pen & ink and watercolor, 2014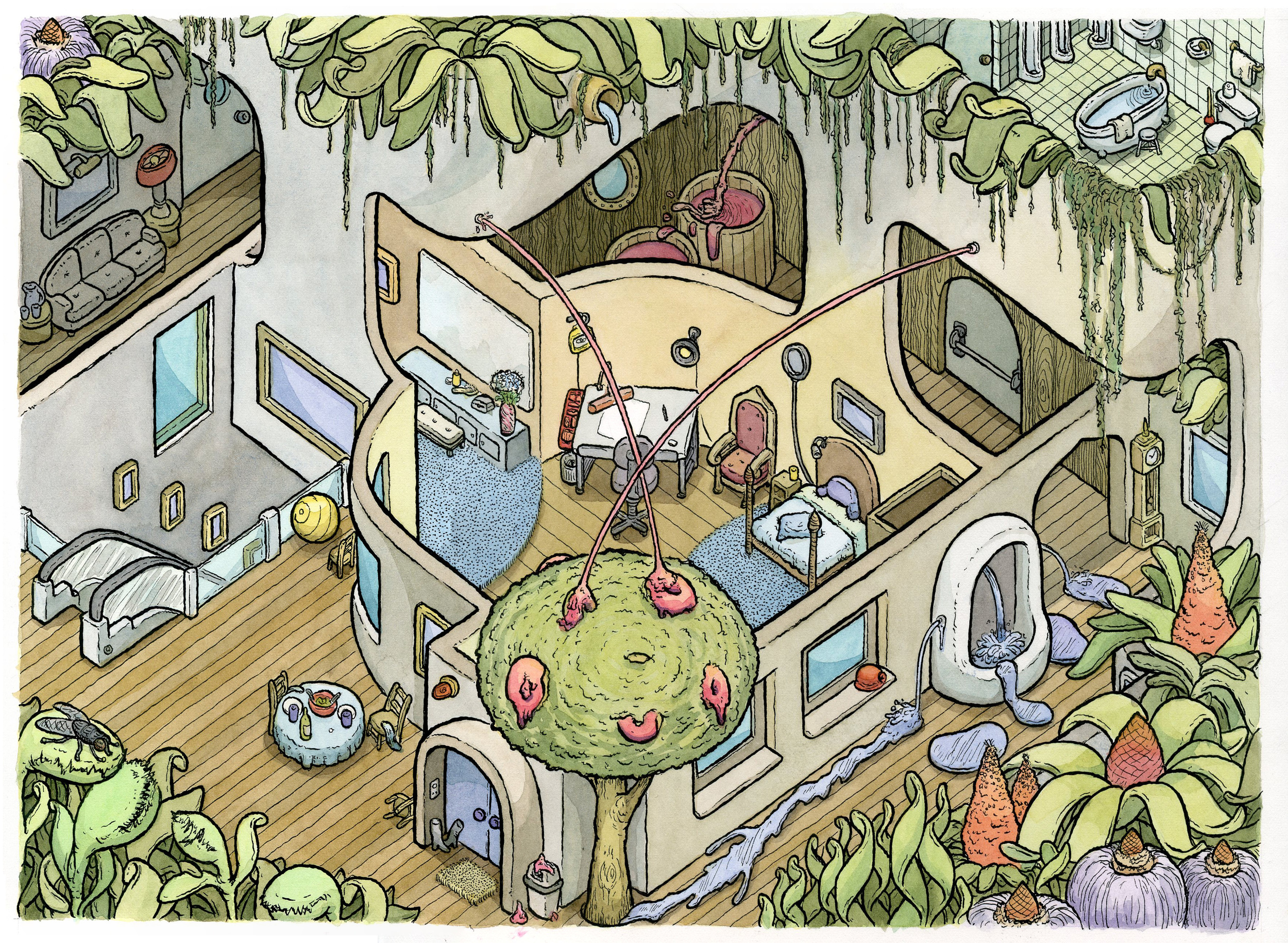 Donuts in Tree
12" x 15" pen & ink and watercolor, 2014
Voyeur Bathroom
9" x 11" pen & ink and watercolor, 2014
John's Hopkins Hospital commmission
100" x 36" pen & ink and watercolor, 2012. More info here.
Penrose Ball with Frosting
pen & ink and watercolor, 40" x 40"
Escher Spooge
2015. Pen & ink and watercolor on paper. 12" x 15"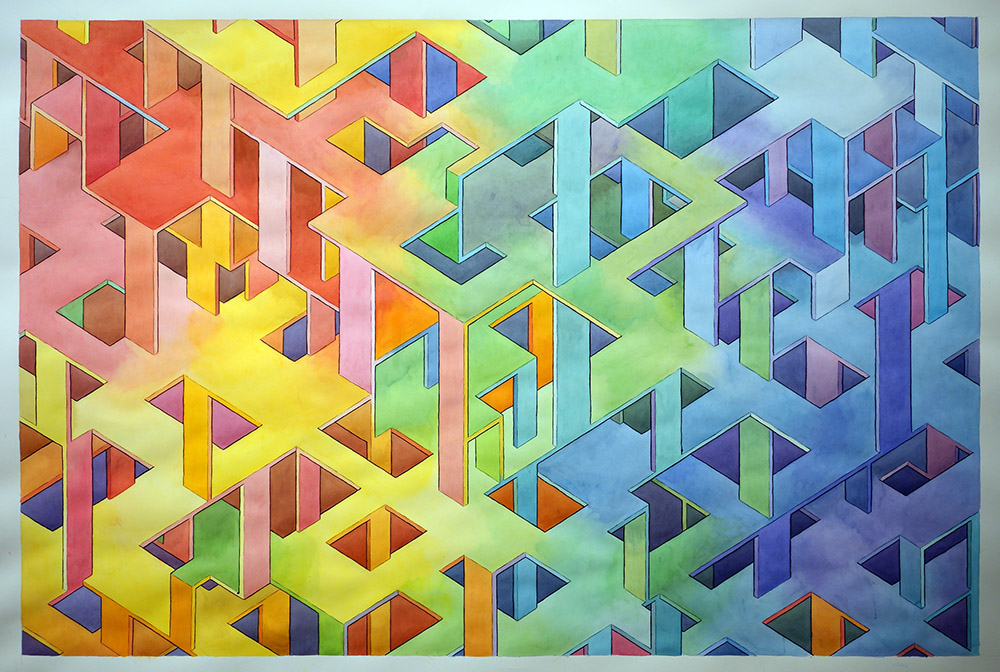 SKITTLES
70" pen and ink and watercolor (2015)
Shrink's Office (progress)
12" x 15" pen & ink on paper, 2014
John's Hopkins Hospital commission - installed
100" x 36" pen & ink and watercolor, 2012. More info here.
Alphabet City
Details here
55th Floor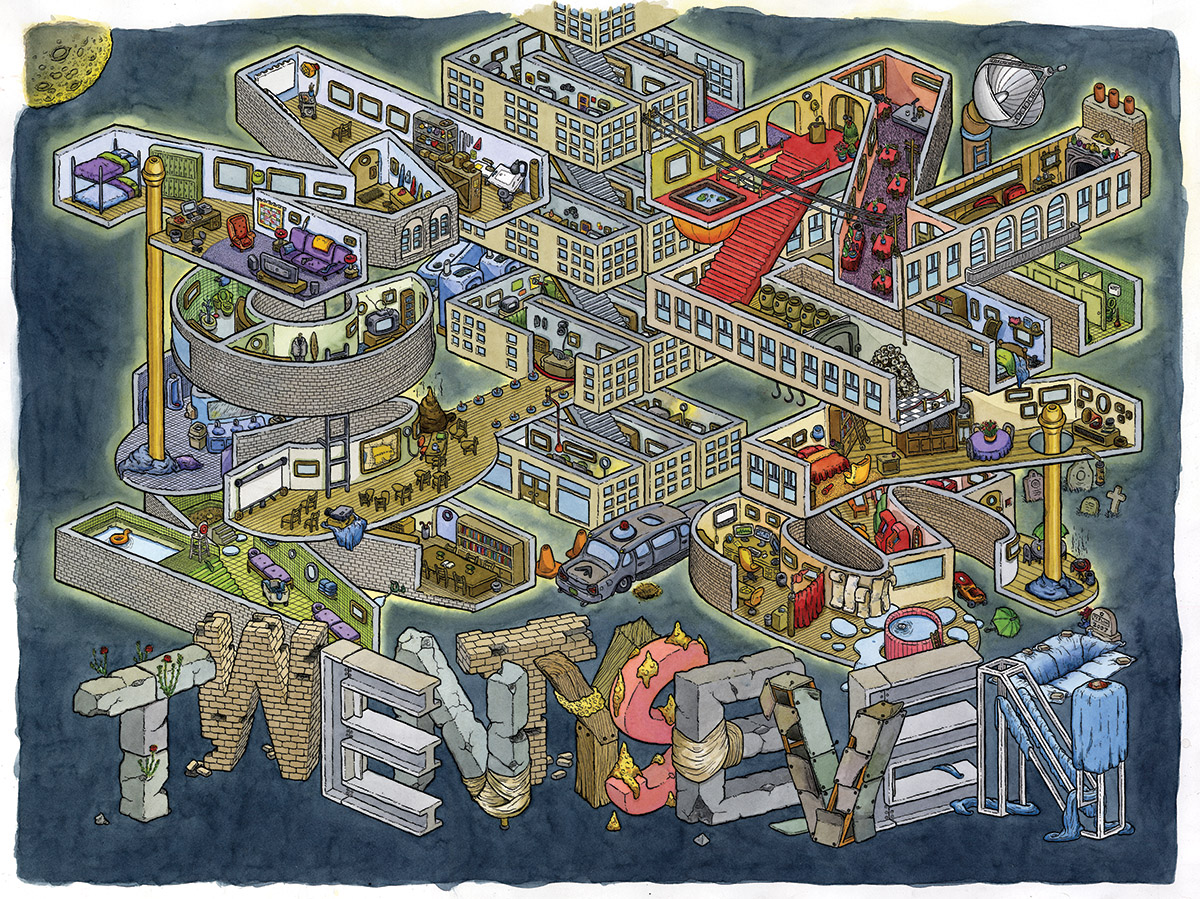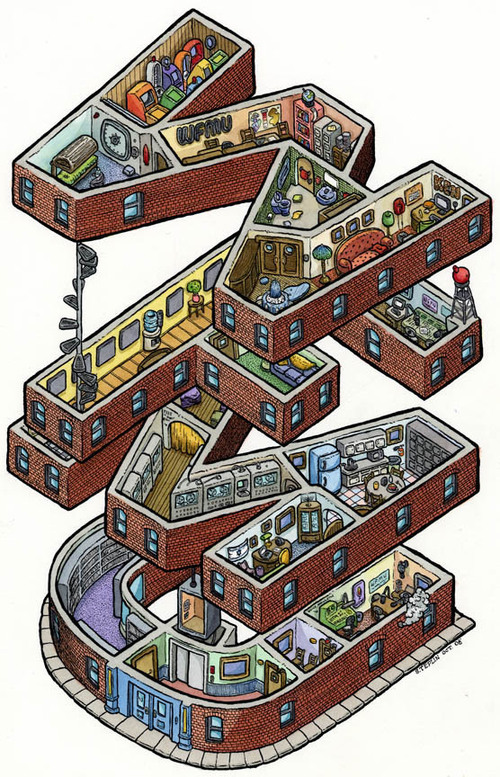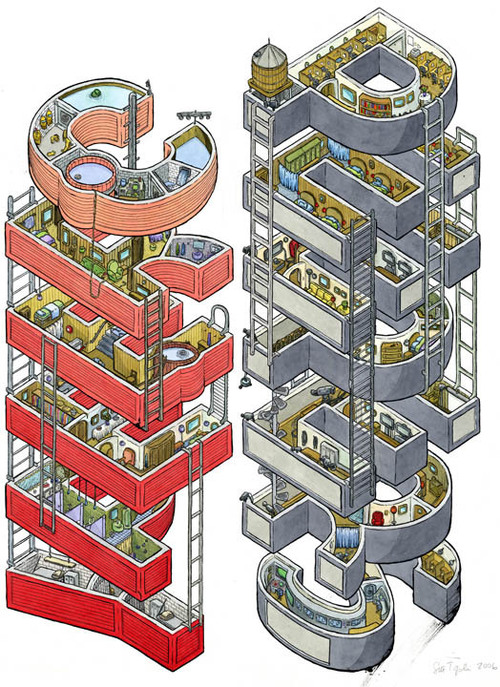 1
2
3
4
5
6
7
8
9
10
11
12
13
14
15
16
17
18
19
20
21
22
23
24
25
26
27
28
29
30
31
32
33
34
35
36
37
38
39
40
41
42
43
44
45
46
47
48
49
50
51
52
53
54
55
56
57
58
59
60
61
62
63
64
65
66
67
68
69
70
71
72
73
74
75
76
77
78
79
80
81
82
83
84
85
86
87
88
89
90
91
92
93
94
95
96
97
98
99
100
·
·
·
·
·
·
·
·
·
·
·
·
·
·
·
·
·
·
·
·
·
·
·
·
·
·
·
·
·
·
·
·
·
·
·
·
·
·
·
·
·
·
·
·
·
·
·
·
·
·
·
·
·
·
·
·
·
·
·
·
·
·
·
·
·
·
·
·
·
·
·
·
·
·
·
·
·
·
·
·
·
·
·
·
·
·
·
·
·
·
·
·
·
·
·
·
·
·
·
·